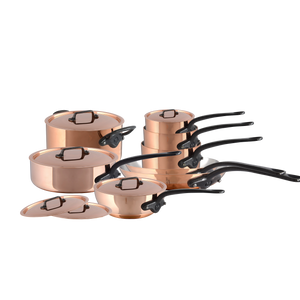 Mauviel M'Heritage M150CI 14-Piece Cookware Set With Cast Iron Handles
Set includes:

1.8-qt Saucepan with lid
2.6-qt Sauce Pan with lid
3.4-qt Sauce Pan with lid
3.2-qt Saute pan with lid
3.4-qt Curved splayed saute pan with lid
10.24 in Frying pan
11.8-in Frying pan
6.2-qt Stewpan with lid

Bilaminated copper stainless steel. Polished copper outside 90% - Stainless steel inside 10%. 
Thickness 1.5mm

Copper exterior offers superior control, heats evenly and much faster than other metals; stainless steel interior preserves the taste and nutritional qualities of foods and is easy to clean. 

Cast Iron Handles. Are traditional and substantial. Offer a very comfortable grip and good balance. Straight rim. Stainless steel rivets

Can be used on all cooking surfaces. Gas, electric, halogen stovetops, and in the oven. It can also be used on induction stovetops with Mauviel induction stove top interface disc (sold separately)

Care. Do not use high heat for a long period of time. Do not leave empty pan on a heated burner for an extended period of time. For items that are not dishwasher safe, do not use in dishwasher. Do not use metal utensils on the non-stick cooking surface. The use of scouring pads, steel wool, abrasive cleansers, bleach and/or oven cleaners is not recommended and can scratch or damage your cookware. Misuse of your cookware will void your warranty. Bleach will erode the Stainless Steel interior and should not be used on any Mauviel cookware

Hand-washing recommended
Maximum temperature.

 

Our products have a superb conductivity, so cooktop knobs or controls cannot be used at their 100% heating power; they need to be used at a 60% capacity. It means on a level of 10, 6.
Dimension of pans:

1.8 qt Saucepan. Diameter: 6.3-in, Height: 3.5-in

2.6 qt. Saucepan. Diameter: 7.1-in, Height: 3.9-in

3.4 qt Saucepan. Diameter: 7.9-in, Height: 4.3-in

10.2-in Frying Pan. Diameter: 10.2-in, Height: 1.9-in

11.8-in Frying Pan. Diameter:11-in, Height: 2.2-in

3.2 qt. Sauté pan. Diameter: 9.4-in, Height: 3-in

6.2 qt Stew Pan. Diameter: 9.4-in, Height: 5.1-in

3.4-qt Curved splayed Saute pan. Diameter: 9.4-in, Height: 3.2-in
Guarantee
Mauviel USA will repair or replace any item found defective in material, construction or workmanship under normal use and following care instructions. This excludes damage from misuse or abuse.

Retinning tin lined cookware is not included in Mauviel's limited warranty. Since tin is a naturally soft metal retinning is normal maintenance on tin lined cookware. Daily wear and tear is not covered under Mauviel's warranty

In order to keep your pans in the best condition and under warranty:

Do not use high heat for a long period of time. Do not leave empty pan on a heated burner for an extended period of time. For items that are not dishwasher safe, Do not use in dishwasher. Do not use metal utensils on the non-stick cooking surface. The use of scouring pads, steel wool, abrasive cleansers, bleach and/or oven cleaners is not recommended and can scratch or damage your cookware. Misuse of your cookware will void your warranty. Bleach will erode the Stainless Steel interior and should not be used on any Mauviel cookware.