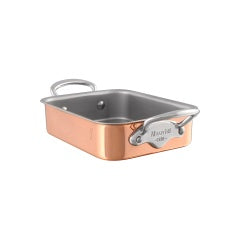 Mauviel M'MINIS Copper Roasting Pan, 5.5 x 3.9-In
Mauviel is the leading cookware manufacturer for professional and household chefs throughout the world.

The minis in copper, are made of 80% stainless steel and 20% copper.

For festive meals or tête-à-tête, in stainless steel or copper, with a brass frame or a stainless steel frame, the M'MINIS collection is designed according to your tastes.

Intended for indoor service and cherished by restaurateurs, they are perfect for the presentation of sauces. They can also be used as individual containers, enhancing their contents with a copper or stainless steel coating.

A Mauviel exclusivity. The minis allow for all kinds of audacities and decorate the tables with their unique style: chic and signed by the Norman house.

Thickness: 1mm

Hand wash only. Not dishwasher safe

Dimensions: 

Diameter: 5.5 x 3.9-in
Full dimensions with handles: 8 x 4-in.
Before first use and after use, carefully wash your pot/pan with hot soapy water then rinse and dry.
Cooking
All products are designed for use in the oven. Only add salt to your pan once the water has boiled. Never overheat an empty pan, this can lead to irreparable damage. Always cook over low to medium heat. Over time, copper can change color through use, however this will not change the conductivity of the copper material.When cooking on gas, the flame never goes beyond the base of the pan.
Cleaning
Never clean your Mauviel pot/pan with bleach. This can lead to irreparable damage.If food sticks to the inside of your pot/pan, soak it with hot soapy water.To restore the shinny copper surface to your Mauviel pot/pan, use our Copperbrill cleaner - See also: How to clean copper.
Guarantee
Mauviel USA will repair or replace any item found defective in material, construction or workmanship under normal use and following care instructions. This excludes damage from misuse or abuse.

Retinning tin lined cookware is not included in Mauviel's limited warranty. Since tin is a naturally soft metal retinning is normal maintenance on tin lined cookware. Daily wear and tear is not covered under Mauviel's warranty

In order to keep your pans in the best condition and under warranty:

Do not use high heat for a long period of time. Do not leave empty pan on a heated burner for an extended period of time. For items that are not dishwasher safe, Do not use in dishwasher. Do not use metal utensils on the non-stick cooking surface. The use of scouring pads, steel wool, abrasive cleansers, bleach and/or oven cleaners is not recommended and can scratch or damage your cookware. Misuse of your cookware will void your warranty. Bleach will erode the Stainless Steel interior and should not be used on any Mauviel cookware.