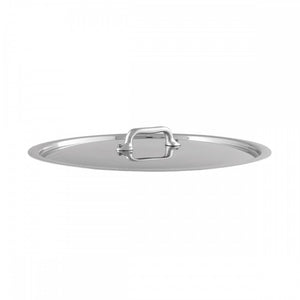 Mauviel M'URBAN 3 Stainless Steel Lid, 11-In
Made in France. Mauviel is the leading cookware manufacturer for professional and household chefs throughout the world

High performance: 2mm Tri-Ply material. 20% brushed 18/10 stainless steel exterior/ 64% aluminum core/16% interior 18/10 stainless steel. Aluminum offers superior heat conductivity; 18/10 stainless steel interior is hard wearing, non-reactive, ideal for all types of cooking activities. Heats fast, cools fast and offers superior cooking control

Handles stay cool. Cast stainless steel handles stay cool during use. Pouring rims on every piece.

Dimension of lid: 

Diameter: 11-in, Height: 2-in.
Guarantee
Mauviel USA will repair or replace any item found defective in material, construction or workmanship under normal use and following care instructions. This excludes damage from misuse or abuse.

Retinning tin lined cookware is not included in Mauviel's limited warranty. Since tin is a naturally soft metal retinning is normal maintenance on tin lined cookware. Daily wear and tear is not covered under Mauviel's warranty

In order to keep your pans in the best condition and under warranty:

Do not use high heat for a long period of time. Do not leave empty pan on a heated burner for an extended period of time. For items that are not dishwasher safe, Do not use in dishwasher. Do not use metal utensils on the non-stick cooking surface. The use of scouring pads, steel wool, abrasive cleansers, bleach and/or oven cleaners is not recommended and can scratch or damage your cookware. Misuse of your cookware will void your warranty. Bleach will erode the Stainless Steel interior and should not be used on any Mauviel cookware.
M'cook Multi-Layers
Each piece is handcrafted in France by Mauviel with a lifetime guarantee (warranty not valid for commercial use). Available in cast stainless steel, cast iron, or bronze handles.
5 ply Construction: High performance cookware, works on all cooking surfaces, including induction.
1mm-2.6mm Thickness depending on item: even heat distribution (fast, uniform, controlled cooking).
Pouring rims on all shapes: eliminates drips when pouring liquids.
Oversized handles: for safe lifting of stew pans, roasters and other large pots. Fixed by sturdy stainless steel rivets.
Professional diameters and heights: M'Cook products have high sides and are designed for both professional and household cooking.