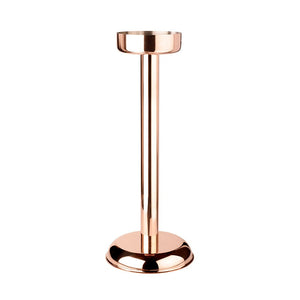 Mauviel M'30 Copper Champagne Bucket Stand, 11.8-In
Regular price $565.00 $452.00
Copper champagne bucket holder from the M'30 collection.
The M'30 Collection brings together bar equipment redesigned by Mauviel1830 to give it an extra touch.

From buckets to pedestals, from basins to serving trays, this chic line aims to make your table unique and to give pride of place to indoor service or a festive moment with friends.
Signed with the seal of the French house, each piece is an exception, a balanced mix between function and design, as the Mauviel1830 house strives to do for all its collections.
Hand wash only. Not dishwasher safe.
Made of copper
Polished finish

Dimensions

Diameter: 11.8-in / 30 cm

Height: 29.1-in / 74 cm
Care
Hand-wash. Dry immediately with a soft cloth.
Avoid using steel wool, steel scouring pads or harsh detergents.
Copper will develop a rich patina over time. To keep the exterior looking new, use copper polish or a combination of lemon and salt.
Guarantee
Mauviel USA will repair or replace any item found defective in material, construction or workmanship under normal use and following care instructions. This excludes damage from misuse or abuse.

Retinning tin lined cookware is not included in Mauviel's limited warranty. Since tin is a naturally soft metal retinning is normal maintenance on tin lined cookware. Daily wear and tear is not covered under Mauviel's warranty

In order to keep your pans in the best condition and under warranty:

Do not use high heat for a long period of time. Do not leave empty pan on a heated burner for an extended period of time. For items that are not dishwasher safe, Do not use in dishwasher. Do not use metal utensils on the non-stick cooking surface. The use of scouring pads, steel wool, abrasive cleansers, bleach and/or oven cleaners is not recommended and can scratch or damage your cookware. Misuse of your cookware will void your warranty. Bleach will erode the Stainless Steel interior and should not be used on any Mauviel cookware.