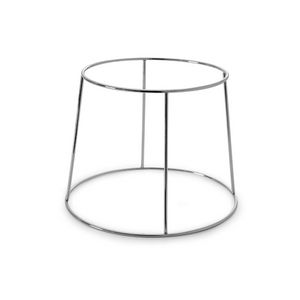 Mauviel M'ELITE Stainless Steel Sea Food Tray Holder, 7.8-In
Mauviel is the leading cookware manufacturer for professional and household chefs throughout the world.

M'ELITE is a collection conceived for induction, solid and lasting. This range, very performing, is made of 5 layers, combining stainless steel, 3 successive layers of aluminum, and an exterior layer of ferritic stainless steel. This alloy ensures a perfect conductibility, thanks to a rapid and uniform distribution of the heat, all over the product.
Dimensions

Diameter: 7.8-in
Height: 7.6-in
Guarantee
Mauviel USA will repair or replace any item found defective in material, construction or workmanship under normal use and following care instructions. This excludes damage from misuse or abuse.

Retinning tin lined cookware is not included in Mauviel's limited warranty. Since tin is a naturally soft metal retinning is normal maintenance on tin lined cookware. Daily wear and tear is not covered under Mauviel's warranty

In order to keep your pans in the best condition and under warranty:

Do not use high heat for a long period of time. Do not leave empty pan on a heated burner for an extended period of time. For items that are not dishwasher safe, Do not use in dishwasher. Do not use metal utensils on the non-stick cooking surface. The use of scouring pads, steel wool, abrasive cleansers, bleach and/or oven cleaners is not recommended and can scratch or damage your cookware. Misuse of your cookware will void your warranty. Bleach will erode the Stainless Steel interior and should not be used on any Mauviel cookware.