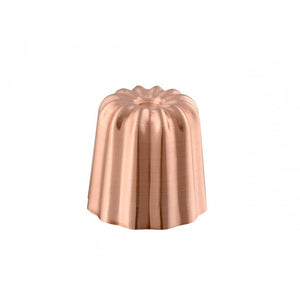 Mauviel M'PASSION Copper Tinned Canele Mold, 1.8-In
Regular price $37.50 $31.00
Famous speciality of the French Bordeaux region, the canele is a small striped cake with a soft and tender dough, with a vanilla and rum flavor; Its specific cooking creates a delicious caramelized crust, always successful in the Mauviel1830 moulds.
The manufacture Mauviel 1830, creates utensils destined to the professionals in cake making since its creation in 1830.

Whether made of copper, stainless steel, aluminium or black tin, these high standards products guaranty the success of simple home -made dishes, to the most precise pastries. Pastry chefs, have voted it their beloved collection.

The utensils in the collection M'PASSION, beyond their efficiency, are aesthetic and embody the passion and culinary know how of Mauviel 1830, with a wide range of products.

For the best and the for the fondness of food.

Hand wash only. 

Diameter: 1.8-in
Maximum temperature. Copper products with tin interiors can't exceed 440°F. Tin starts to melt at approximately 445°F. 
Cleaning
Never clean your Mauviel pot/pan with bleach. This can lead to irreparable damage. If food sticks to the inside of your pot/pan, soak it with hot soapy water. To restore the shinny copper surface to your Mauviel pot/pan, use our Copperbrill cleaner - See also: How to clean copper.
Guarantee
Mauviel USA will repair or replace any item found defective in material, construction or workmanship under normal use and following care instructions. This excludes damage from misuse or abuse.

Retinning tin lined cookware is not included in Mauviel's limited warranty. Since tin is a naturally soft metal retinning is normal maintenance on tin lined cookware. Daily wear and tear is not covered under Mauviel's warranty

In order to keep your pans in the best condition and under warranty:

Do not use high heat for a long period of time. Do not leave empty pan on a heated burner for an extended period of time. For items that are not dishwasher safe, Do not use in dishwasher. Do not use metal utensils on the non-stick cooking surface. The use of scouring pads, steel wool, abrasive cleansers, bleach and/or oven cleaners is not recommended and can scratch or damage your cookware. Misuse of your cookware will void your warranty. Bleach will erode the Stainless Steel interior and should not be used on any Mauviel cookware.