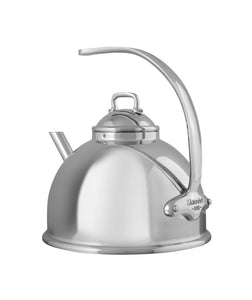 Mauviel Stainless Steel Kettle from the TABLE collection
Renew the pleasure of tea with this kettle with the elegance of the past. Modernity has no code with Mauviel1830. The TABLE Collection by Mauviel1830.
With its experience in cooking, Mauviel1830 has explored new worlds. With bar accessories, preparation tools and a very nice line of room service, Mauviel1830 answers a new expectation, nowadays fundamental, the service. To go from the stove to the table, it was necessary to combine practicality and aesthetics, performance and modernity.
Rich of its know-how, Mauviel1830 has done it: beyond the stoves, today the brand proposes tools already essential to those who use them.
Dimensions:
Diameter: 8-in
Height: 5.4-in
Capacity: 3.2-qt
Guarantee
Mauviel USA will repair or replace any item found defective in material, construction or workmanship under normal use and following care instructions. This excludes damage from misuse or abuse.

Retinning tin lined cookware is not included in Mauviel's limited warranty. Since tin is a naturally soft metal retinning is normal maintenance on tin lined cookware. Daily wear and tear is not covered under Mauviel's warranty

In order to keep your pans in the best condition and under warranty:

Do not use high heat for a long period of time. Do not leave empty pan on a heated burner for an extended period of time. For items that are not dishwasher safe, Do not use in dishwasher. Do not use metal utensils on the non-stick cooking surface. The use of scouring pads, steel wool, abrasive cleansers, bleach and/or oven cleaners is not recommended and can scratch or damage your cookware. Misuse of your cookware will void your warranty. Bleach will erode the Stainless Steel interior and should not be used on any Mauviel cookware.